Perinthalmanna, Kerala, INDIA
2017-2019
@fourth_wall_architecture
Fourth Wall Architecture
Design inspiration for the residence revolves around clients lifestyle and still evokes a sense of native Kerala's vernacular architecture. Clients are both doctors who had envisioned their house to have spaces to entertain the friends and family yet maintaining the privacy of the household. Residence completed in 2019 has a total buildup area of 3900 sqft. Material palette for the house comprises of Exposed concrete, brick, Laterite blocks, buffed Kadappa flagstones, Kottah stones, Laporte, Nilambur teak, Burma Teak and polished metal sheets. Nilambur teak is used throughout the project in various forms as furniture, Window frames because of its abundant availability in the locality. Majority of the furniture and wall hangs are customised to give the residence its unique interiors.
Exterior: Large planters at both sides of the front yard are topped with buffed flagstones to act as outdoor seating. Slope of the site  is used to create Landscaped levels to reach the verandah. Driveway is paved greenpavers which break the monotony of otherwise plain ground cover with a touch of green as well as provides hard strata for vehicular traffic.as we climb-up the levels we get a glimpse of  fruit bearing and flowering plants.  Landscape includes butterfly hosting and snake repelling plant species. Main entry to the house is through the Veranda which sits afloat over the Lilly pond. On rainy evenings with a cup of  tea in hand,veranda becomes the most happening  place in the house. Colour, material and craft variations throughout the spaces complete the architectural  tapestry.
Interiors: Veranda transits to double height living area which extends to dining and ends at the patio.  Each interior space has a basic colour as its theme. Common areas  have a aqua blue theme and it is reflected in furniture and articles. Dining table and chairs are made out of Nilambur teak wood and has curvy parametric bench. Patio and light-wells are  where the nature invades the interiors of the house.
Dining area leads to kitchen to its right and semi public areas to the left. Kitchen is given a white avatar with white glossy dado tiles and milky Planilacque panelling on the cabinet doors. Kitchen leads further to utility area and then to right side exit. semi-public zone houses wash, powder room, staircase and maids room. Zone opens up to exterior dock of brick inter-lay and Kadappa stepping stones. Past the semi-public zone comes the private zone with a 6 feet wide corridor and bedrooms on its both wings. Corridor is well lit with a light well that connects ground floor with the upper level.  Staircase is made of perforated SS sheets and SS handrails with teak wood hand rest on top. Stair landing has a light well on top and the area below the first flight of stairs form an elegant pebble court. Climbing the stairs we reach brick walled area of first floor with jallis with a view to outdoor barbecue terrace and luscious planter. Towards the right an interactive reading area sits directly above the dining, which also acts as family living . Moving towards  the corridor, two bedrooms are placed on either sides. All bedrooms in the house are designed to have similar spatial arrangement with a king sized bed with teak wood reaper backdrop on a textured wall, a study area and a bay window. All bedrooms have a walk-in wardrobe and wooden flooring. Each bedroom is assigned with colour which gives an identity through the backdrop wall, furniture and articles in the interior.
In contrast to the white walls and floors, door and windows are made of Burma Teak. Movable furniture are of teak wood finish. Side tables are topped with  Ranthambore tiles.  Bedrooms have shades of blue, green, and yellow as its colour theme.
Design Intent: Throughout the design process we have tried to honour the past without compromising functions of a contemporary lifestyle. Effort was put on to a design that gives 'function' as a leading factor in spatial planning rather than a form based envelope. Every space keeps up the continuity in terms of circulation and space defining elements. Basic plan has evolved from functional zoning. Living, dining and patio form the public zone, stair room, powder room and the maid room and second patio form the semi-public zone which also acts as a buffer area for the private zone that follows. Carefully planned skylights give an ambient interior lighting throughout the year and minimise the use of artificial lighting at day time. All art pieces for the house is handpicked, monochrome wall hangs are custom made and the paintings on the walls are contribution of the architect.
Challenge was to seamlessly blend the vernacular architecture and modern architecture style, where parts of the building have a sense of individuality as the design as whole.Designers have adopted a method called 'selective luxury', detailing out only parts of the space that really demand highlighting.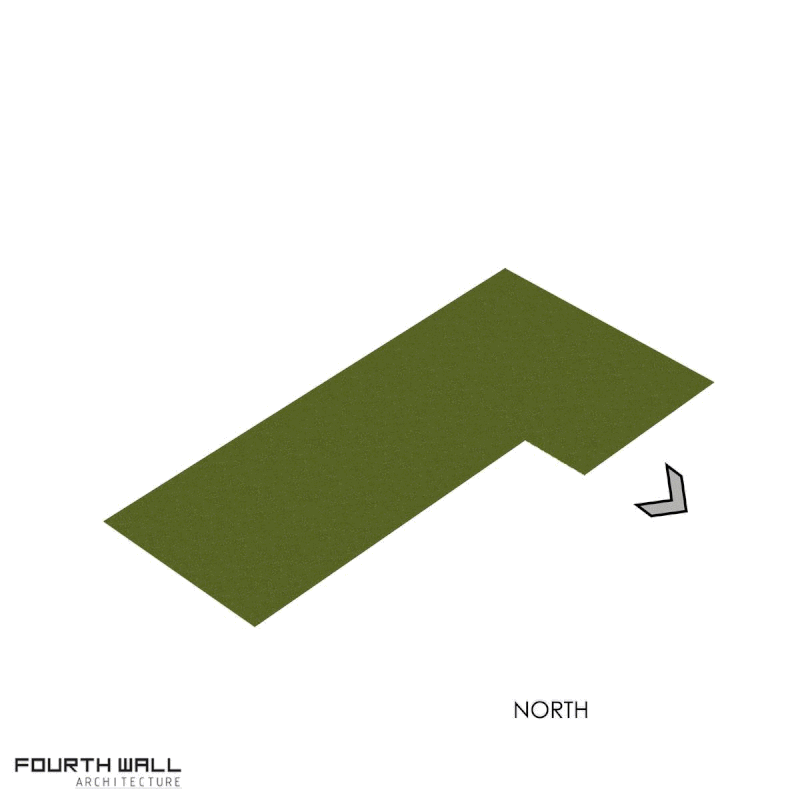 ---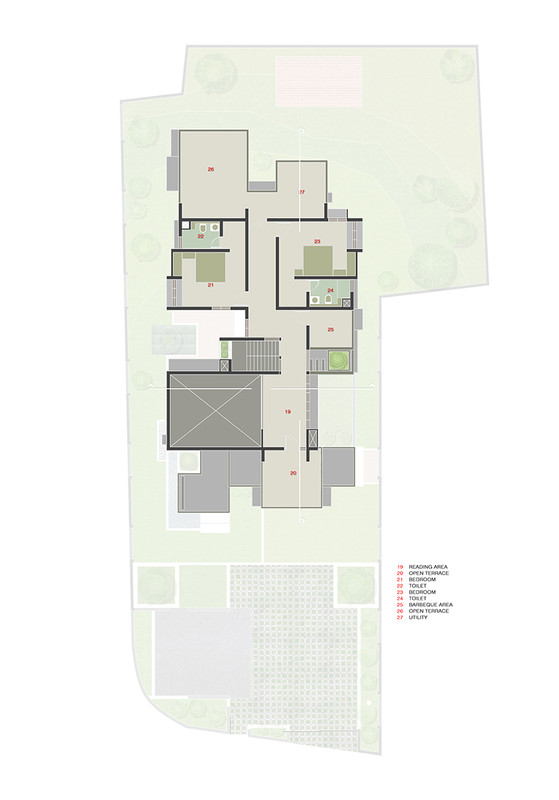 ---
---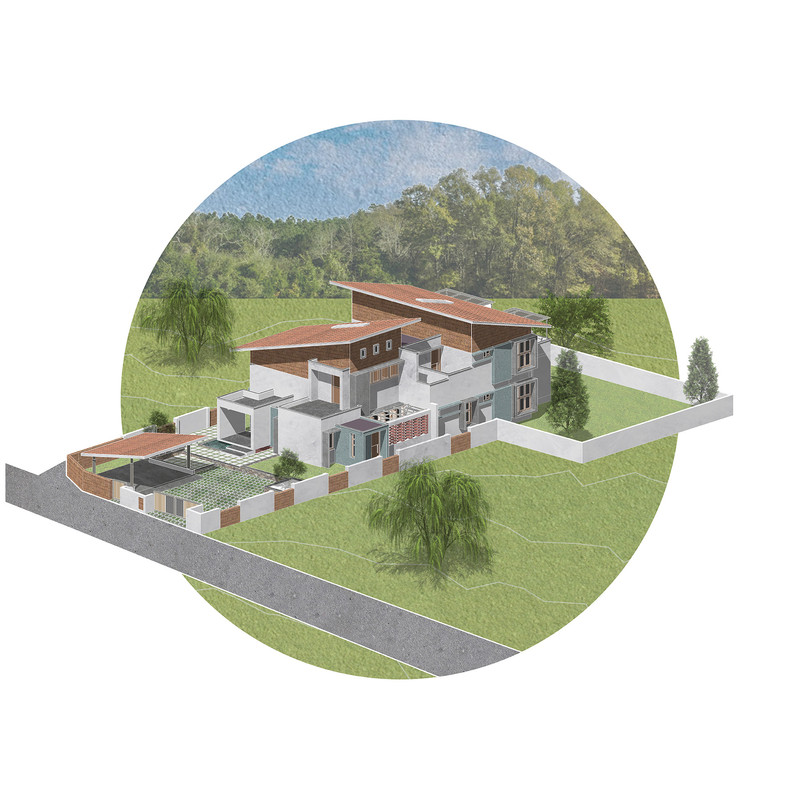 ---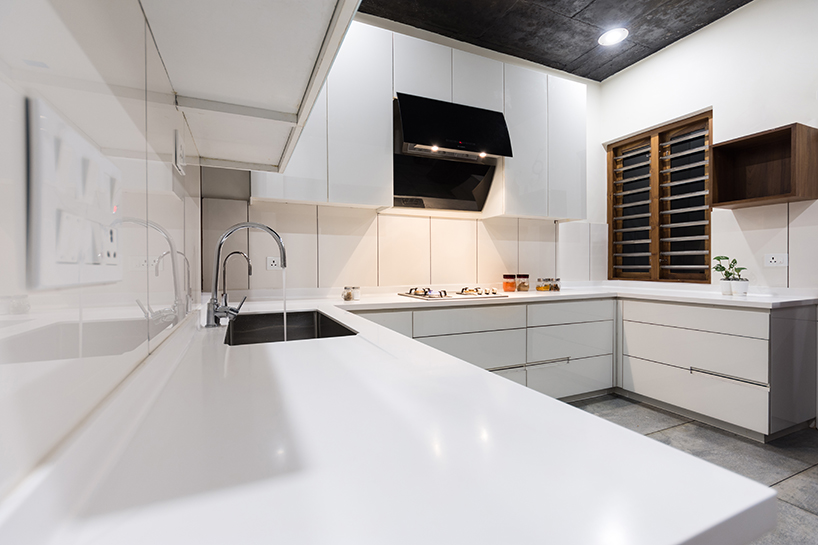 ---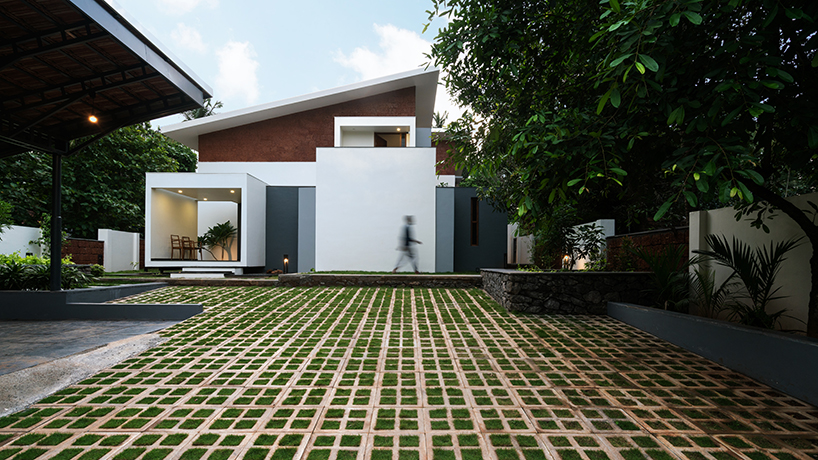 ---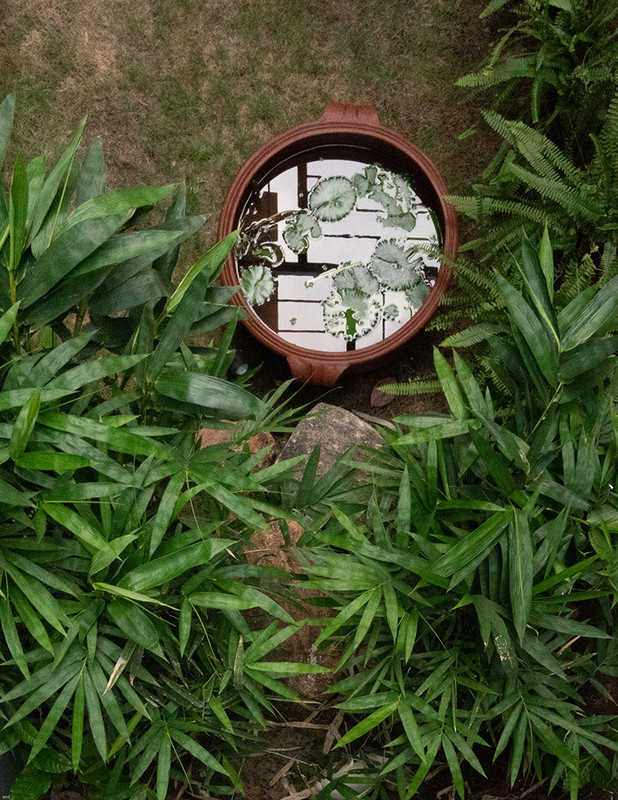 ---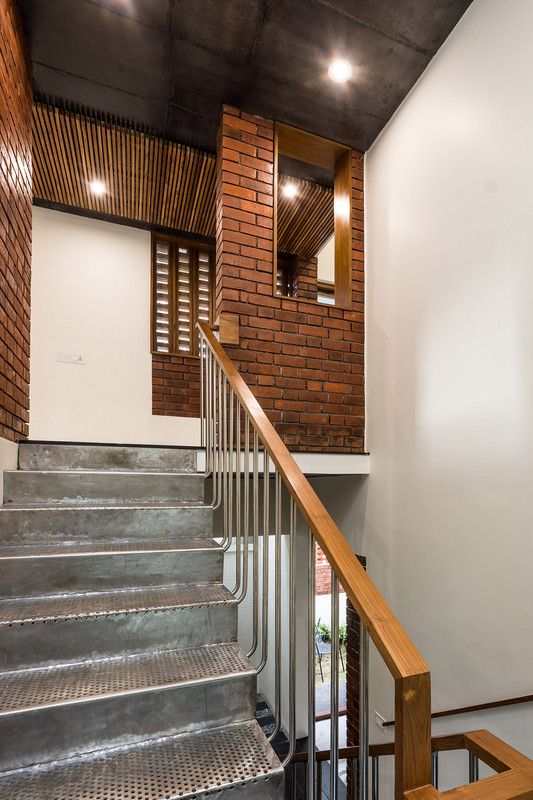 ---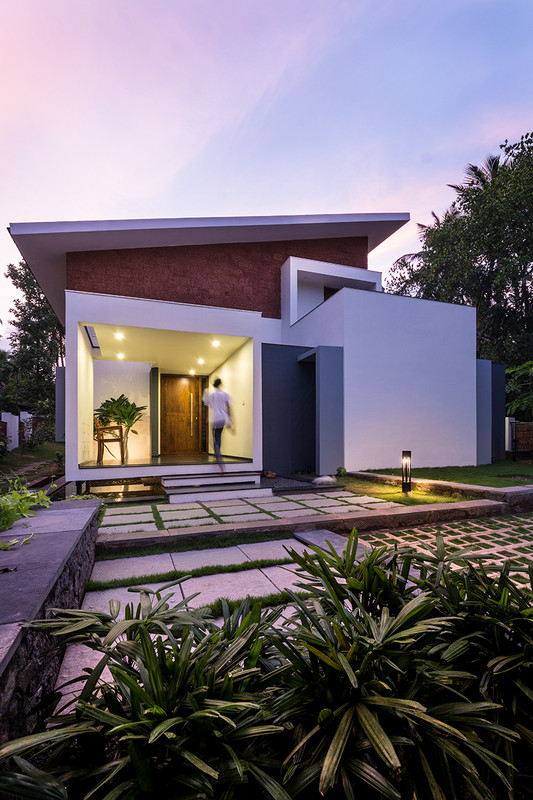 ---