Banja Luka, Bosnia and HerzegovinaBosnia and Herzegovina
2019
@maja_medic + @neda_medic + @voltar_fantor + @nebojsa__jeremic
Maja Medić, Neda Medić, Malina Čvoro, Radovan Beleslin, Saša Čvoro, Đorđe Šebić, Zoran Uljarević, Nebojša Jeremić
The way the coastline makes connections with the most important areas in the city determines the degree of connection between the city and the river. The most important city streets, squares and parks in Banja Luka were developed on a distance from the river. From the main town square, the view partially opens towards the fortress and indirectly, through the Market Square, to the coast. Due to the nature of its steep banks and the composition of built structures, users only experience the river when they descend from the city center to one of the bridges.
Now, for the first time in many years the city of Banja Luka, the second largest city in Bosnia and Herzegovina, has announced an International Architectural Competition for the new bridge that is supposed to connect two of the busiest transits in the city and create a link between the main pedestrian area and the river banks. By emphasizing the importance of pedestrian accessibility in such a large scale spatial intervention, it was decided to divide the pedestrians and cyclists from the noises, jams and pollution of the traffic.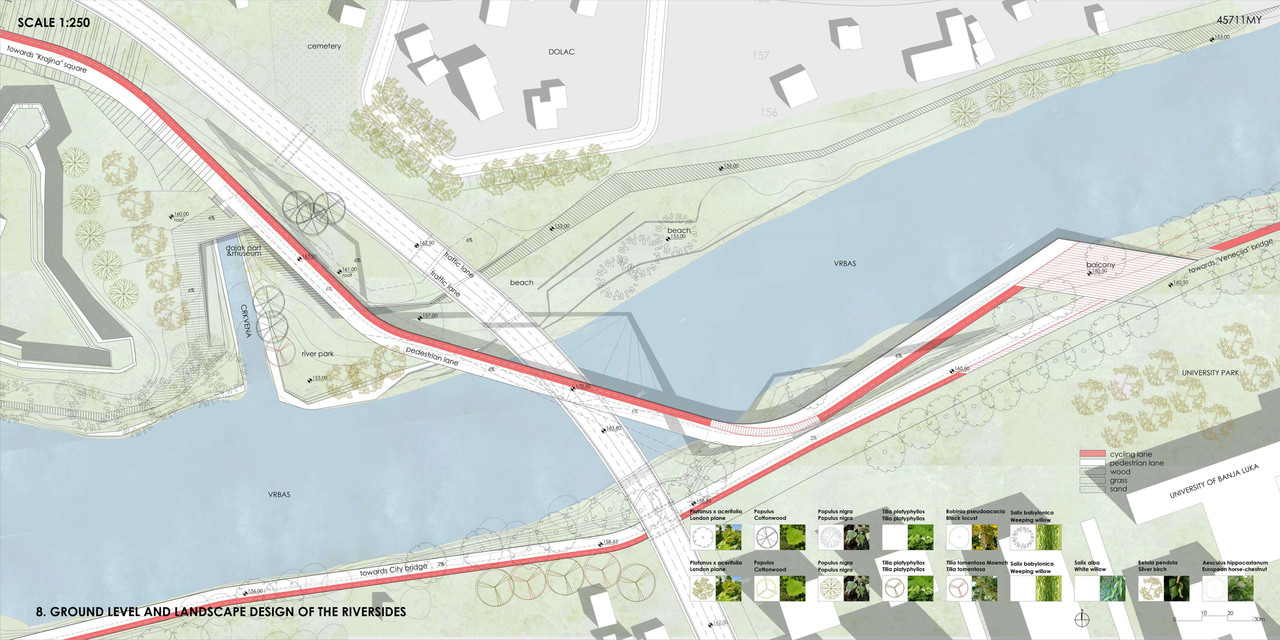 ---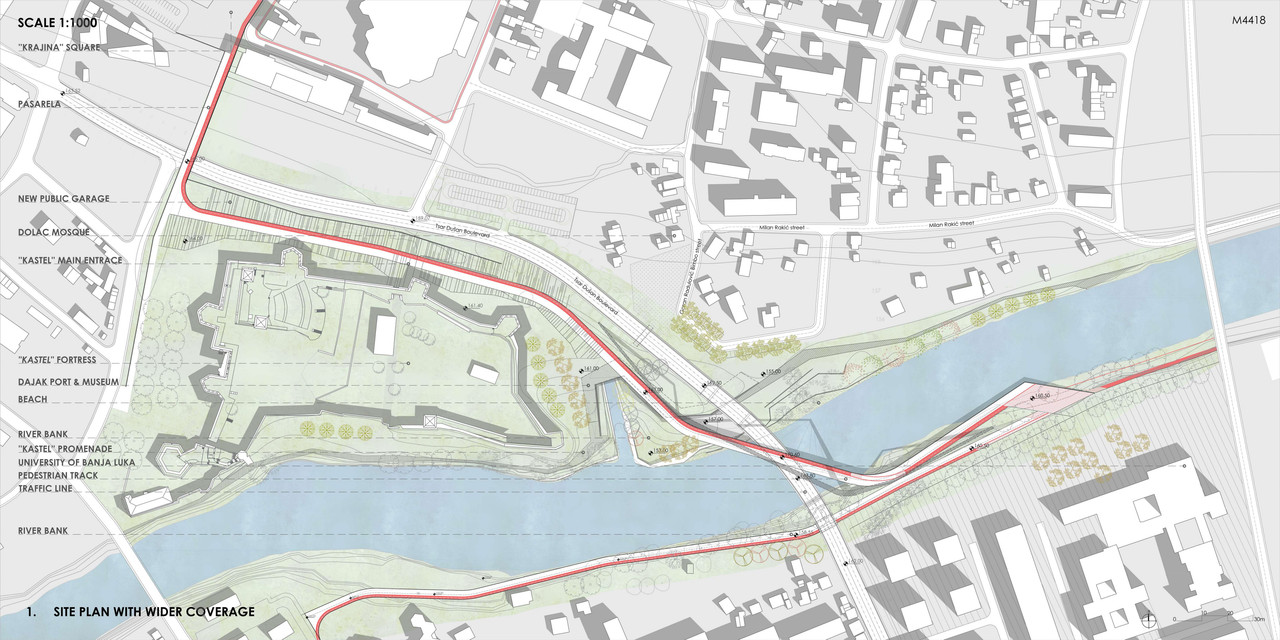 ---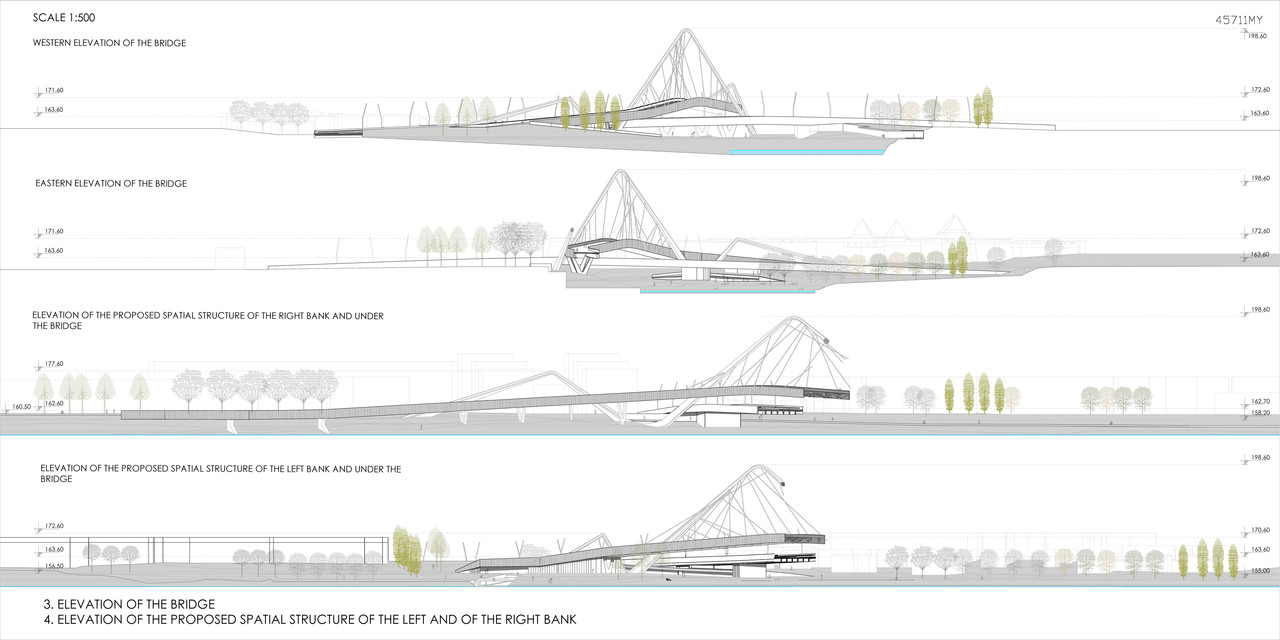 ---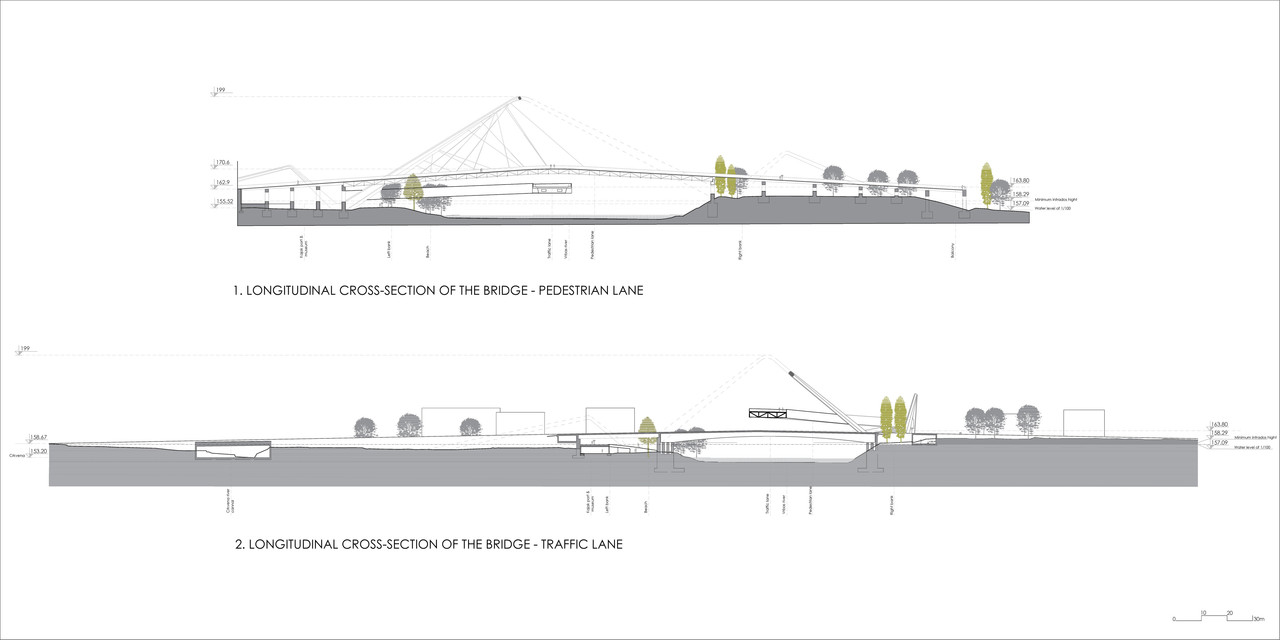 ---
This idea evolved into finding the pathway for primary users that would enable a quick descent from city center to the greenery of the river banks. The pathway also provides a connection with the parts of the city across the river, independent from the traffic lanes of the bridge. By adding a new content beneath the bridge, the riverfront could finally offer a decent ambient for citizens and tourists, so they can enjoy the natural beauties of Vrbas river, only minutes away from the most urban city areas.
The pedestrian lane is an arched steel bridge to which the main span structure is attached, designed as a spatial steel grid that can provide vertical and lateral rigidity. The bridge is equipped with fence, lighting and clearly defined paths for pedestrians and cyclists. In the zone above the river, a pedestrian lane crosses the traffic, where a height of 5 m is necessary for smooth traffic flow.
---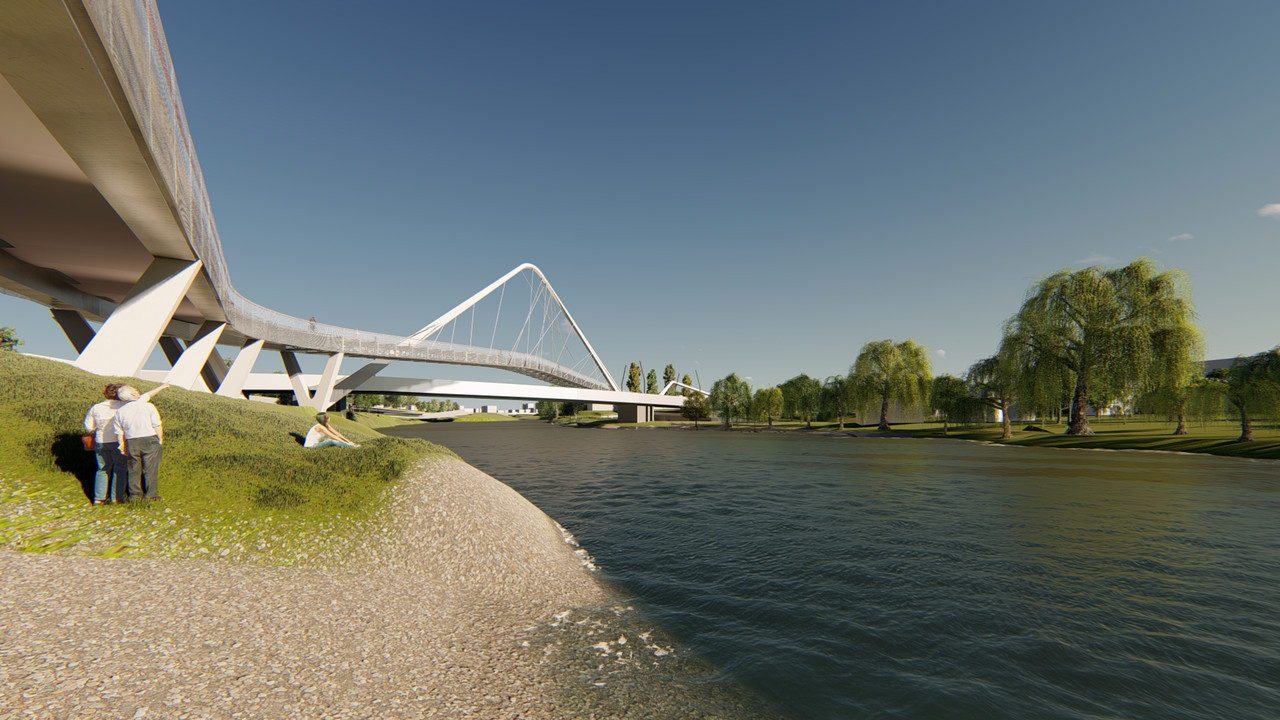 ---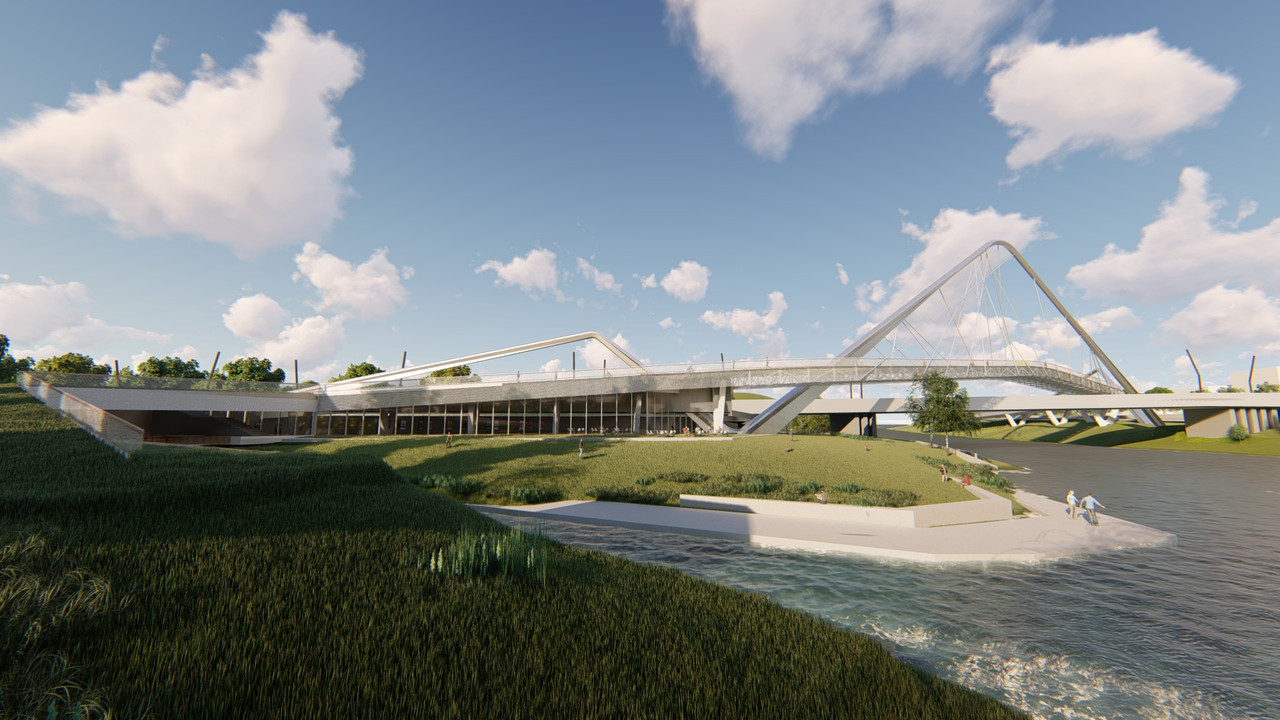 ---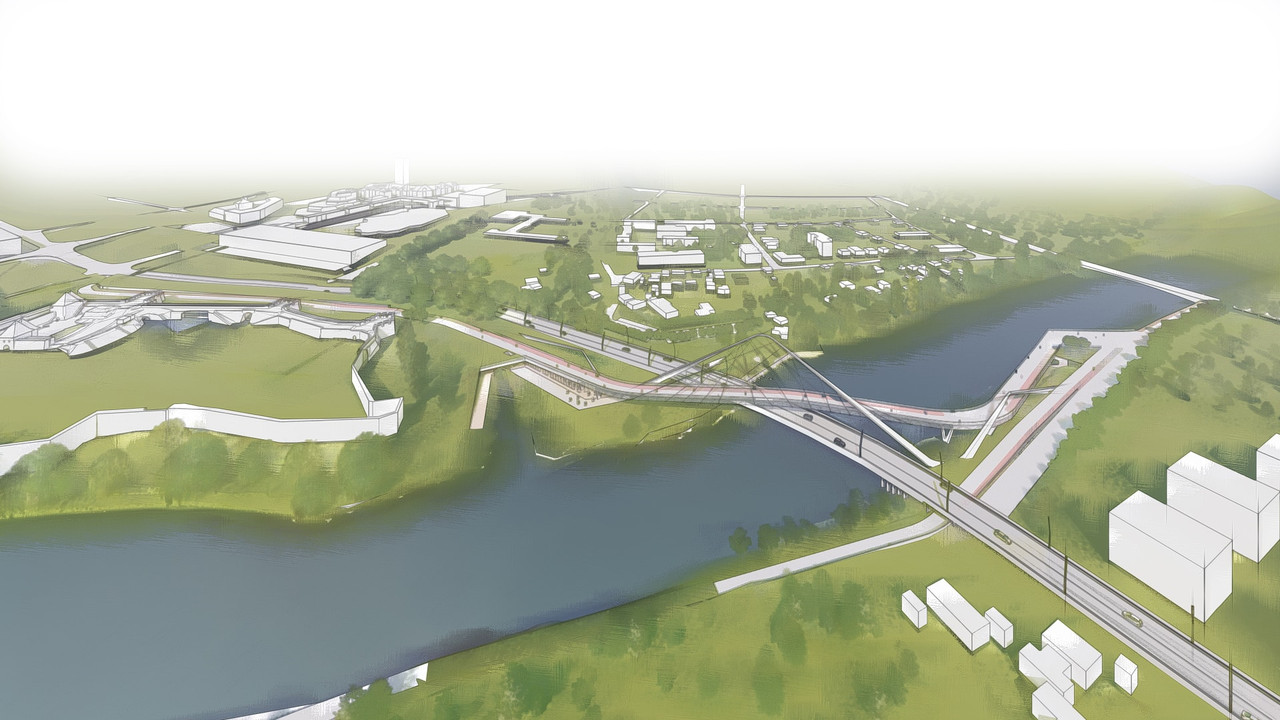 ---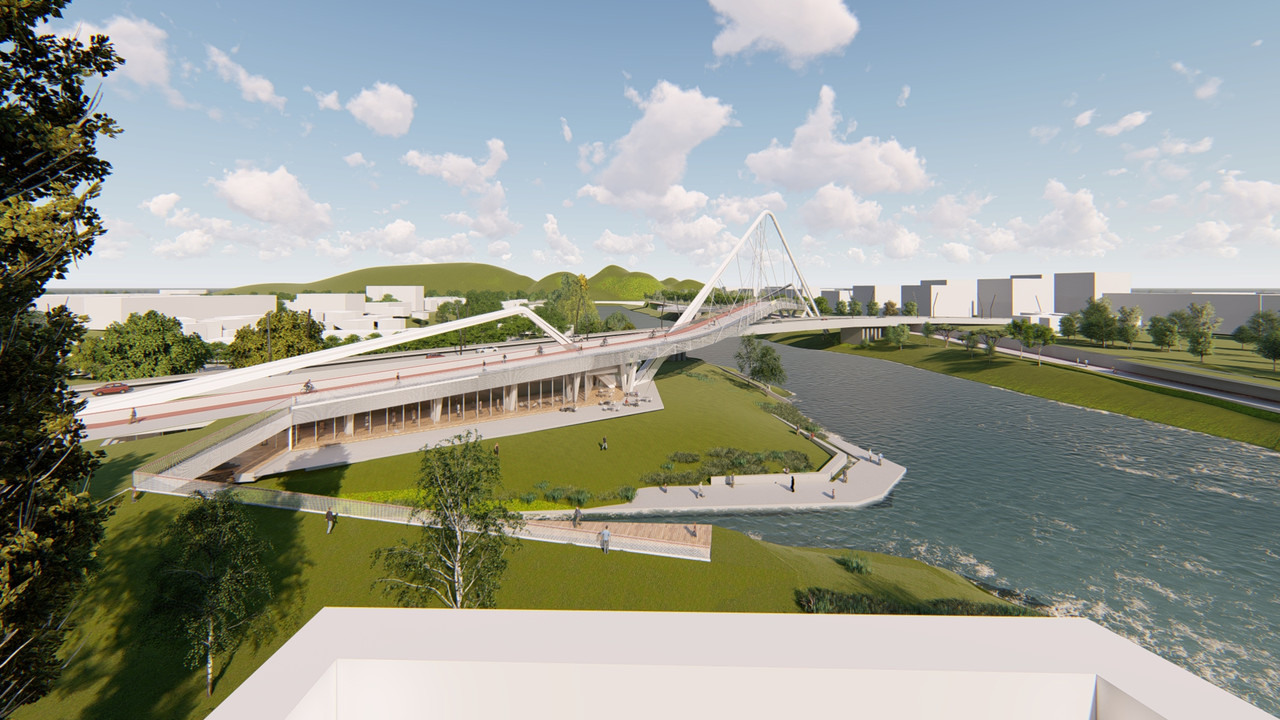 ---