Architects: Gianluca Bertoli, Leonardo Lappi, Emanuele Loroni
Location: Pharphing, Nepal
Instagram: @gianluca_bertoli & @leolappi & @woodwork_arredamenti
The building is the new reference point for the community of this little village located near the city of Pharphing in both a functional and a structural way. It achieves its raison d'être and its structural and map showing answers through the attempt at a dialogue with the landscape, the use of specific materials and the locals' ancient traditions with a symbolic value.
The juxtaposition of two heigths produces a valley that hosts a street, that's the only element that links the big town and the little villages which develop all along the road. The building is north-south oriented accordingly with the geography of the valley.

---

The Hindu's temples results particularly congenial for the conception of the project. They're constructed aligned with the cardinal directions such as the plan which originates a building that has an overview on a courtyard that frames the landscape.
---
Axonometric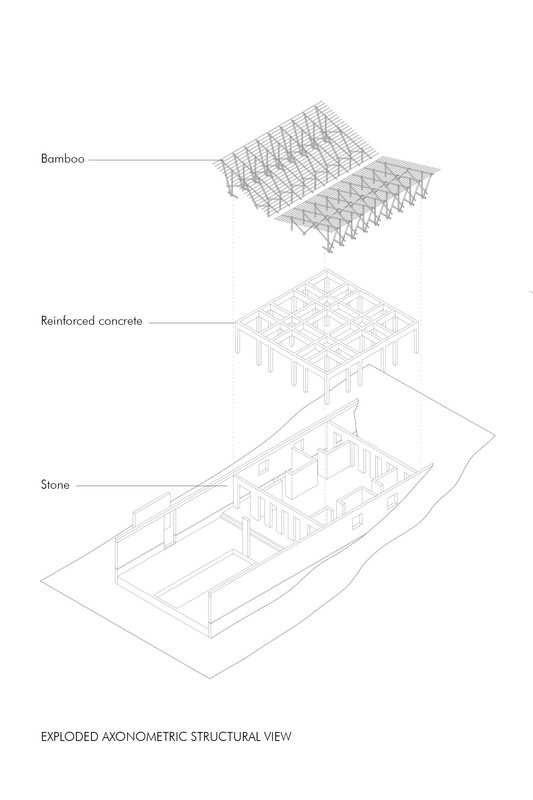 ---
Section CC

The slope of the terrain and its rocky formation led us to the choice of a partially below ground building. This last from the outside seems like a prism that stems from the rocky terrain due to the use of retaining walls, instead the inside is in visual continuity with the landscape.
The building has got a covered area of 166 mq and consists in a main room that acts as a distribution element where the collective areas of the atelier overlook the courtyard, instead the service spaces are directed north.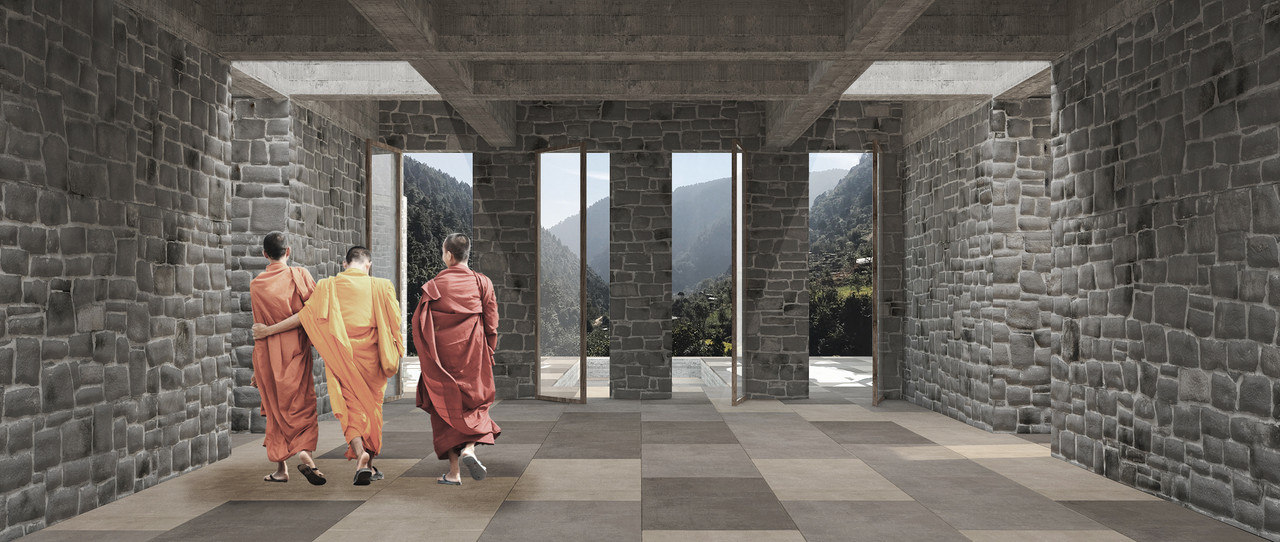 ---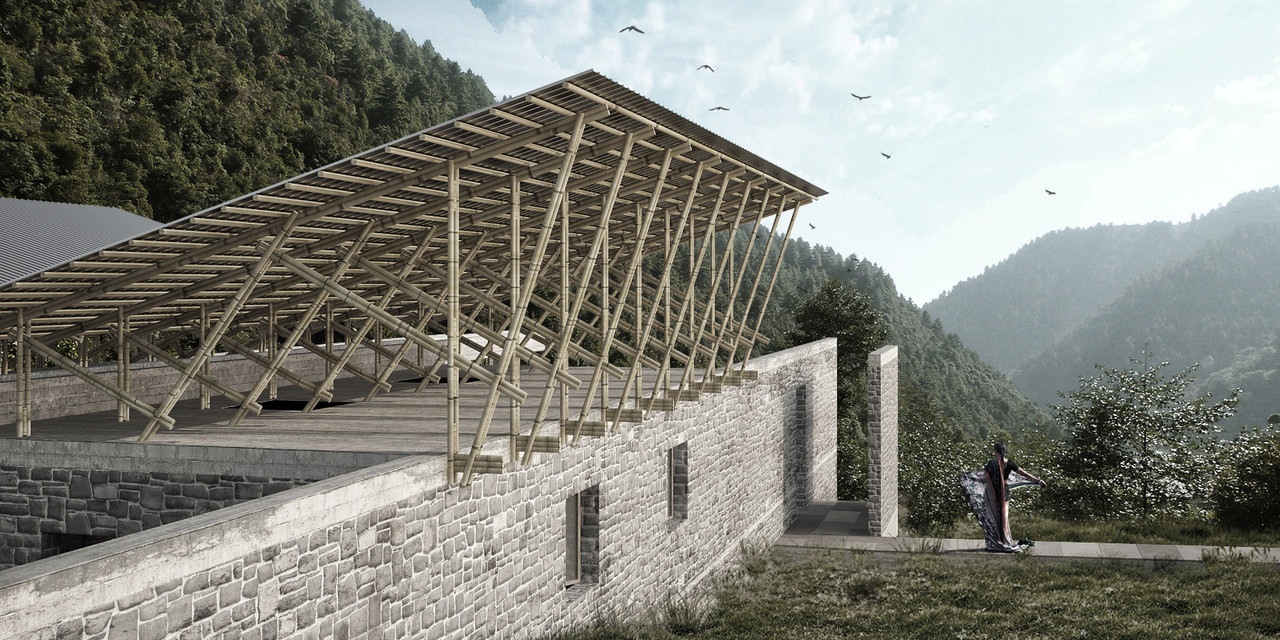 By consulting the climate data of Kathmandu's area (Energy Plus), it has been possible to determine the passive strategies. During the year, the heavy rainfall are exploited through the recovery of them: the inclinations of the roof enable to collect the water inside a canal and pours it into the tub in the centre of the courtyard. Below the tub there's a storage tank for the previously made drinkable water.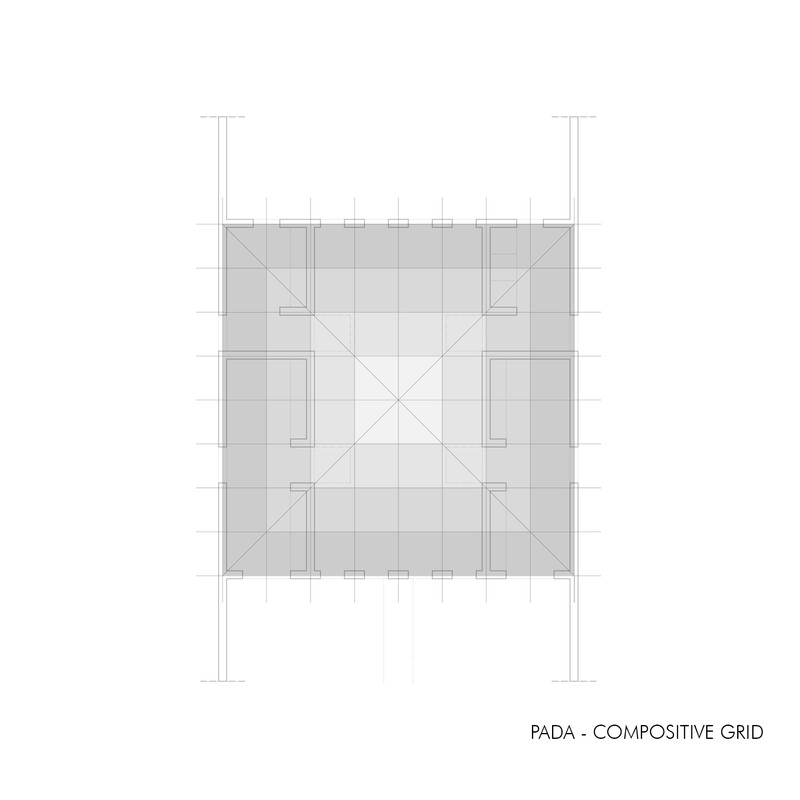 ---
Plan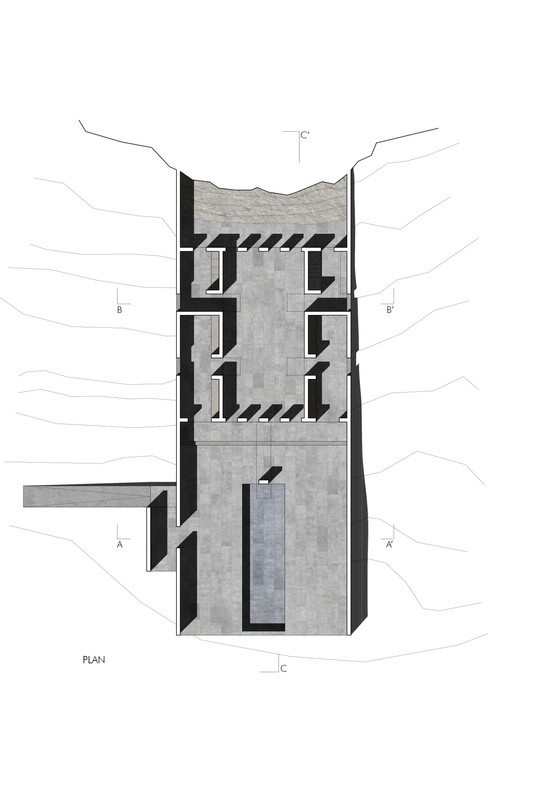 The protrusive roof enables to shield the inside windows that facing south in summer.
Analyzing the prevailing winds, it has been decided to keep open the south side of the courtyard with the aim of exploit the dominant summer winds (S-SW). In this way, the transverse ventilation inside the building is guaranteed, instead the walls shield winter winds (W).
The stone walls guarantee a high time discrepancy of the thermal curve, instead for the roof has been used a lighter bamboo structure that is separated from the building to ensure the ventilation between the floor and the cover.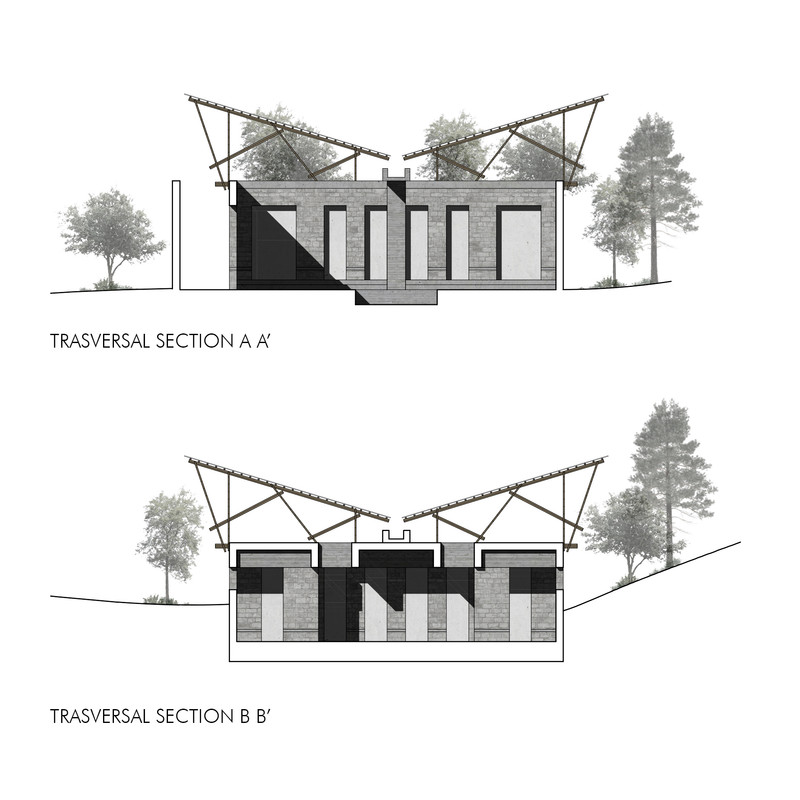 ---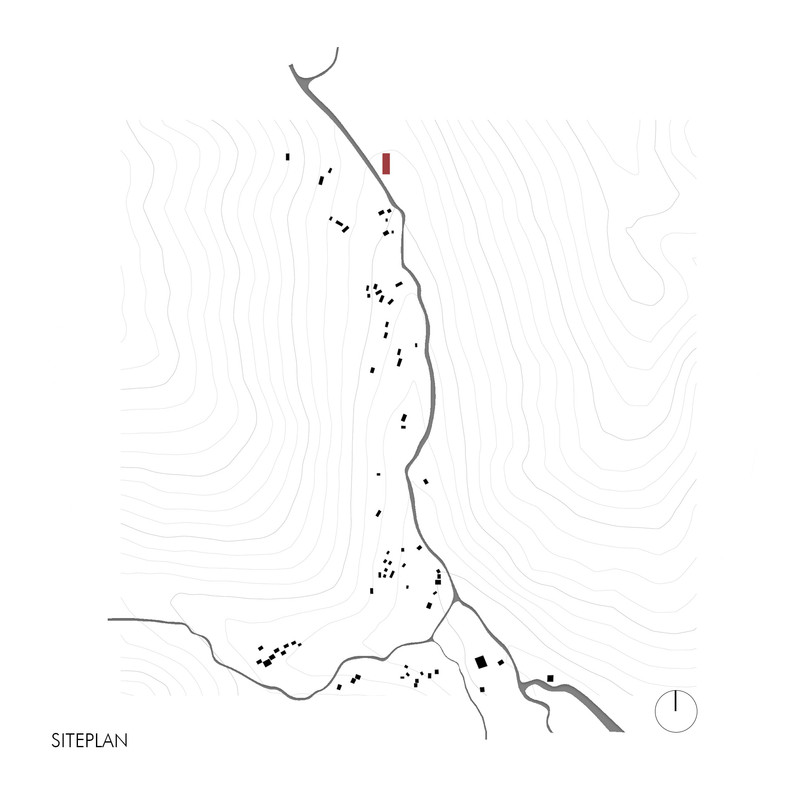 The treatment of the sewage happens through lagooning by using constructed wetlands. The faecal matter may be used for the production of biogas in order to limit the need of fossil energy.
The building might be almost self-sufficient thanks to a procurement electrical system of solar panel.