Architect: Olivier Dauch (La Maison Voyageuse)
Location: Najac, Aveyron (12) / FRANCE
Area size: 105m² (1130 sq.ft)
Price: 60 000 €
Year: 2017
Based on an upgraded version of the traditional yurt-building technique from Mongolia and Uzbekistan, this sedentary yurt complies with the latest french building rules (RT 2012). It is 9m60 (30ft) wide for an overall interior area of 105m² (1130 sq.ft). Its structure is made of Douglas local wood, it is insulated with natural sheep wool and the external skin is made of acrylic textile.
It comprises a mezzanine of about 30m² wich welcomes a study, a guest froom and a reading area. Orientated to the North, two bedrooms and a bathroom are situated bellow the mezzanine. The rest of the interior space, oriented South, is dedicated to the living room, the kitchen and a dining area.
Its ecological performances are off the charts : With the use of local materials, optimized interior space, a smart orientation (all windows are facing South), a rocket stove, a natural hygrometric and thermal regulation thanks to the sheep wool insulation, its yearly energy consumption is below every low carbon standard (LEED, HQE, BEPOS, etc…).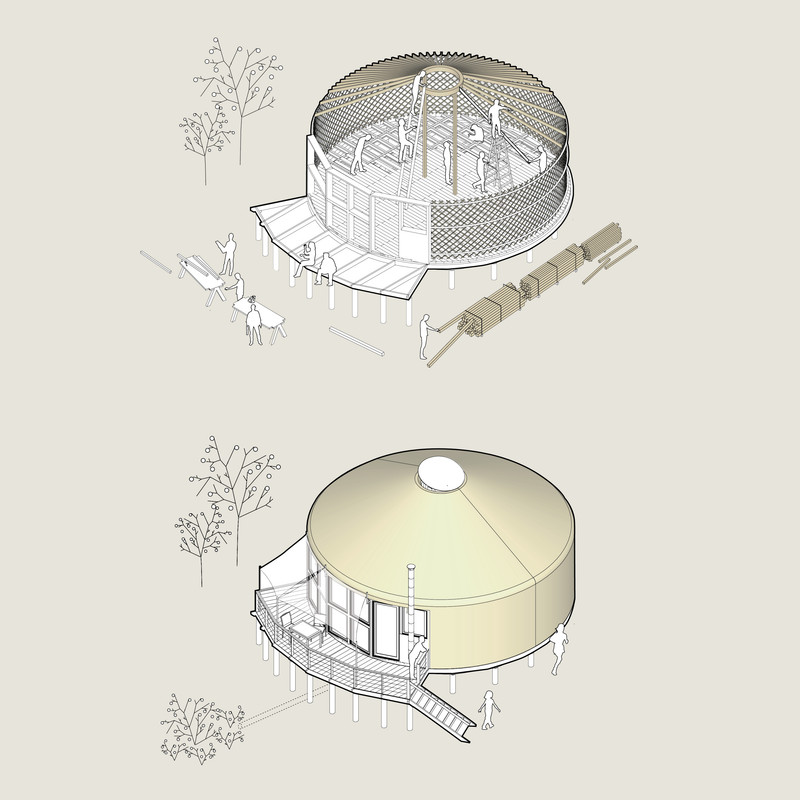 Olivier Dauch and Anne-Sophie Bobey have been building Yurts for more than 20 years in the South of France. They make every part of it in their workshop near Najac : wooden pilotis, Toono (circle at the top), Khana (extensible wooden truss), custom made external skin, etc…For this specific projet, the making of all the parts took about 5 months. However, the assembling process on site, took less than 10 days and required nothing else than the help of five friends and volunteers !
Much more than a typical yurt, this project can be considered as a serious and replicable alternative to traditional dwelling in France as it presents more cumfort and architectural quality than most of standard houses currently being built, for twice less money, and a significantly lower ecological impact.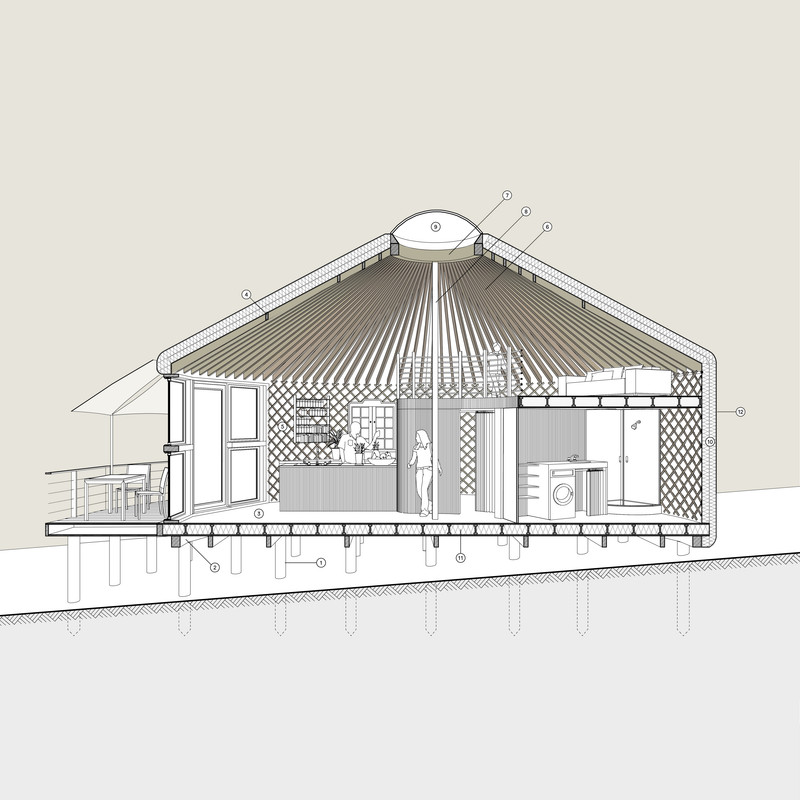 ---