In this millennial era, there is an enormous growth of social media platforms in every way. Architects should know about their opportunities to showcase themselves and increase their market on social media. Instagram, the king of Social media platforms, is, fortunately, a visual medium, which best suits the architecture profession. Here is how you can create an Instagram profile as your architectural portfolio to showcase your work and enhance your business.
Be uniquely you
Always be uniquely you. What is important in creating an Instagram strategy for a business profile is to communicate from a unique perspective. First, make your profile a business account, as it opens access to analytics. Business profiles are often taken seriously by the audience and so, be consistent and exceptional with your posts. What if a prospect loves your work and needs your services but there is no info to do it? Obviously, he will look for someone else. So, make sure you add your service details, company logo, and website and contact details to your profile.
Pull the audience through the right hashtags
Hashtags are the way to pull more and more audiences to your profile. Do not just use hashtags such as #art, #buildings, etc, Be specific and appropriate with the hashtags that match your images, like #architecturalvisualisation, #architecturalproject, or #architectureillustration. RIght hashtags get you to the right audience. Also, always go easy on them, and do not complicate with hashtags. Two or three tags under one post are more than enough.
Make use of Instagram Stories
Instagram is one of the best social media platforms with great features to enhance your profile. One such feature that benefits your business is Instagram stories. Stories can do much more than what we think. An architectural expert can add locations, hashtags, polls, story highlights, questions, and music to the stories. Stories show you how engaged your audience is with your profile. For example, you can post a question on your project and analyze how your prospects engage with your profile and what they like to see. It is fun to have a poll question and know their perspective on your profile.
Go for a grid of posts for your projects
Architectural projects cannot be communicated by a single image or a post. Use a grid of posts to show different images of your project, whether from the concept to construction images, different views of your project, etc. Going for grid posts can maximize the engagement with your profile and increase the impressions. A grid of six or a grid of nine is the most preferred choice for a project. Also, you shall maintain the same set of grids for each project and make your profile neat and clear for your prospects to know about your projects.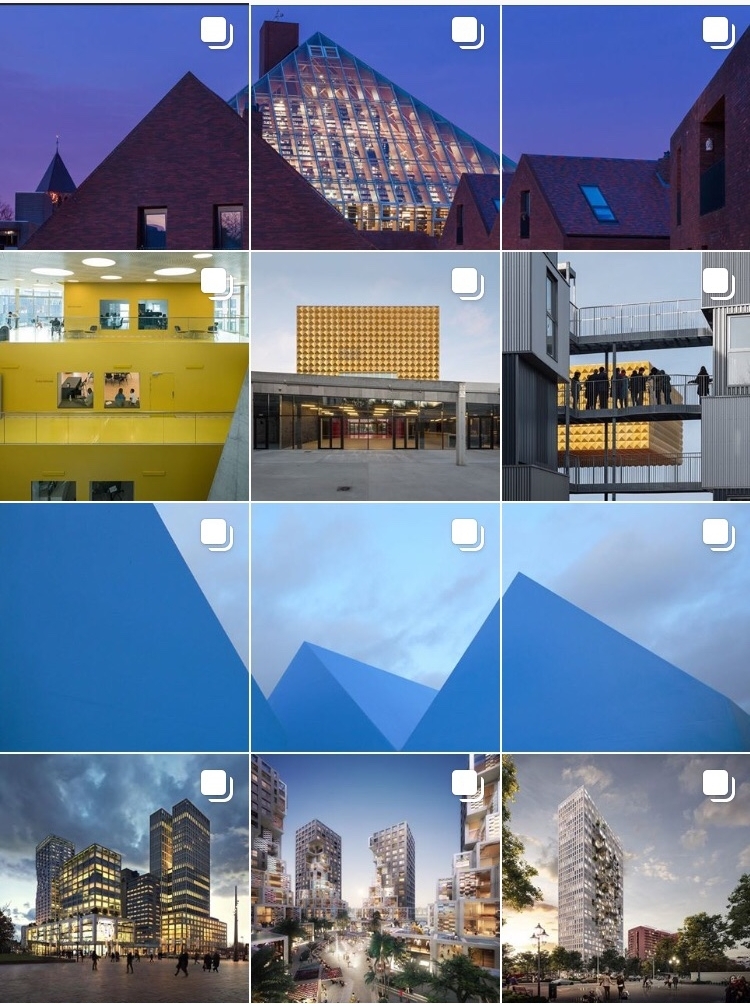 Make your profile stand out with your visualizations
Instagram is the most powerful visual (social) media platform. Hence, architects should share high-quality images and videos on Instagram. You can make your profile stand out only by the visuals you post in your profile. Be clear about how you communicate with your audience. Choose any form of visual communication such as illustrations, diagrams, sketches, or renders and make your profile distinct from the others in the way of communication.
Communicate with your followers
Though Instagram is predominantly a visual media platform, it also allows you to communicate through words. You may engage your audience with the captions for your posts, ask a question through the stories, and direct message your projects to your preferred prospects. Once you post, you must constantly check for the comments and reply to them politely and appropriately. Also, check the direct message for any proposals.
Post reels showing Behind The Scenes
When all your projects are in construction and you have nothing to post on Instagram, how could you engage your audience? Reels are a way to eliminate the gap and be consistent. When you are out of anything, post reels of what happens behind the construction, or how you work in your office. Your prospects are always eager to know more about your process and behind the scenes to get to know about you.