CV and portfolio are your first impression and the first step towards securing your dream job as an architect. You should put in a lot of effort to make sure that they are up to date, well-designed and contains the right information. Rest of the article, we will give the advices for best architectural CV with the examples. Let's start!
The architecture industry is one of the most competitive industries. You need to have a perfect CV if you want to get noticed by recruiters. It is important to highlight your skills and experience, as well as show how these can help solve the problems faced by potential employers in their organization. It is also important for you to show that you are passionate about architecture and eager to learn new things.
To build the best architectural CV is the key for getting success in job applications. The most important part of a good CV is the content. The content should be concise and clear. It should not be too long, but it should also not be too short. It should only contain relevant information about the person, such as their skills and experiences.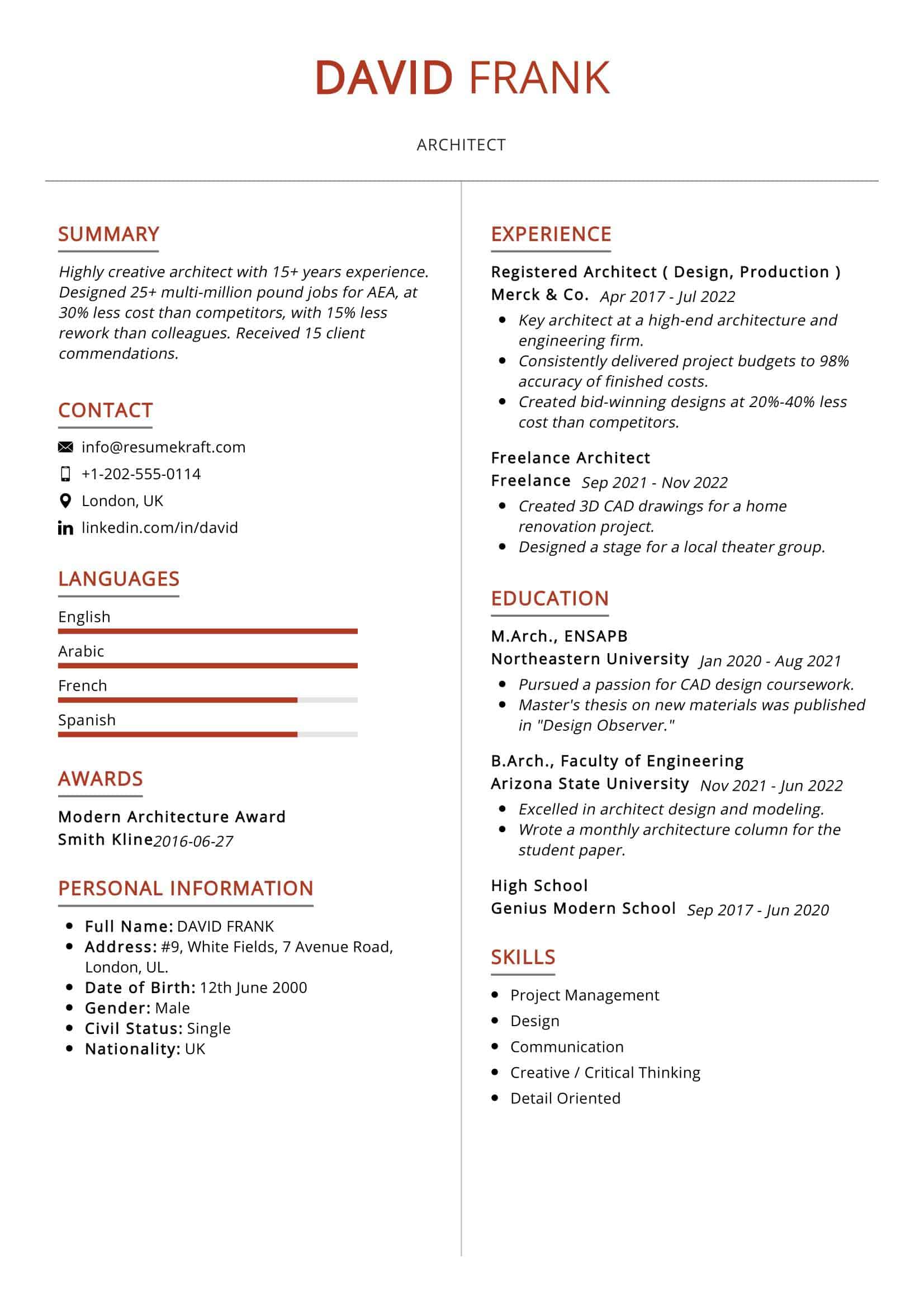 The CV is a document that tells someone about your qualifications for a job or an educational program. It needs to be tailored to the position you are applying for, so it can't just include anything you want. You need to tailor your CV so that it is relevant to what you are applying for and make sure that it doesn't have any mistakes since employers will check for them before they even look at your CV.
In order to make a good architectural CV, you should have a strong understanding of expectations of reviewers. You should be able to demonstrate your skills and experience in the field. You need to meet the requirements of the position you are applying for and highlight these competencies. In addition, if you do not have any experience with the vision and work of the office to which you will apply, they should see on your CV that you have enthusiasm.
A CV for an architect is more creative than that of a typical job seeker because it needs to show off their design skills. They also need to show their technical knowledge, ability to communicate with clients and team members, as well as their problem-solving skills.
The following are some of the best advices on how to build a CV that will help you get your dream architectural job:
– Have an eye-catching design. If you apply with the portfolio, consider the design language of both. Your CV should made with the same design language with your portfolio. Reviewers will evaluate your portolio and CV at the same time.
– Use key words and phrases in the summary section. What are your characteristics? What kind of interests that you have?
– Keep it concise. People who are reviewing your CV will spend no more than 2 minutes on average. Make sure you provide enough information as soon as possible.
– Include all relevant information. Check that all positive information about the position you are applying for is included in the CV.
Contents of Best Architectural CV
The best CV what you'll use to differentiate yourself from other architects in the market and get that interview. A good Architectural CV should include:
– Your personal information: name, contact details, education.
If you have a driving license, you can add it in this section. Make sure your phone number and e-mail address are correct and legible.
– Your work experience: relevant projects, duration of employment, internship experiences.
The companies that you have worked and interned before are references for your new job application. Evaluate your references well.
– Your skills: software skills and knowledge.
The software knowledge you need to support with your portfolio is one of the most important information for the firm you will apply for.
– A list of your achievements: specifics about what you've accomplished in your career.