You're a brilliant architect, and any company would be lucky to have you. But how do you let them know that? Your resume is the representative that goes on ahead of you, convincing potential employers of your worth. Here is the guide for a perfect architectural resume.
How should you write a resume?
What should a perfect architectural resume look like? There is no ideal formula for a perfect architectural resume. But there are four stages of writing a resume to produce an ideal resume.
STAGE 1: In the first stage of writing a resume, you need to focus on compiling all your information related to your work and skills. Making a master resume with the compiled information makes your resume available for the future, to go with the same format.
STAGE 2: The second stage of resume writing is finalizing the sections of a resume. This is an important step for future resume perfection. This stage has the following sections fulfilled:
Header
Personal information
Profile title
Work experience
Education
Certification
Awards & recognition
Additional information
STAGE 3: The final stage has two important steps.
You need to conclude your architecture resume by writing an objective summary if you are a student or an intern. Similarly, write a resume summary if you have more than 3 years of experience.
Writing the skills section
The skills section is the most important part of a resume. You are hired for your skills more than anything else. So, single out the core strengths of your role and also list out your responsibilities in your previous experiences.
What should the format of the resume be?
The resume could be formatted in various ways according to your skills and experience. There are mainly three types of resumes: chronological, functional, and hybrid.
A chronological resume lists down the things you have done in chronological order, with the most recent on the top. A chronological resume is best suited for career architects, i.e. those who have their career progressed logically and linearly.
A functional resume focuses on your skills, which may be described in out-of-date order. The functional resume would be useful for a fresher or an intern, who does not have much experience. It will be useful in representing their skills and objective to show their interests.
A hybrid resume combines these two, perhaps focusing on a specific skill required for a position in the first part of the document, but later listing some work experience in reverse date order. A hybrid resume, as a functional resume is also useful for those who are not career architects to show how they have gained the required skills and knowledge to meet the requirements of the job.
What is the best design and layout?
Though we, architects are good visualizers, do not gimmick with colors and cursive fonts for attraction. Rather, a clean and neat resume will speak most effectively. Clearly demonstrate your interests and strengths as an architect. Use font size 11 or 12 for the main body of your resume, with larger text for titles and smaller text for less important information. Make sure there is enough white space between blocks of text and use color judiciously, or not at all.
How long should a resume be?
A longer resume does not mean you had done so much and are well skilled or experienced. Rather, the longer resume makes your recruiter tired.  Ideally, a resume could be one or two pages even if you have years of experience. If you are a senior architect and professor with more than 10 years of experience and your resume goes for pages, you need to edit your resume. Eliminate the things you have done years ago and those which are irrelevant to the current job you apply to. You shall also use a double-column layout and get more information into a page or two without being cluttered.
Do's and Don'ts of a perfect resume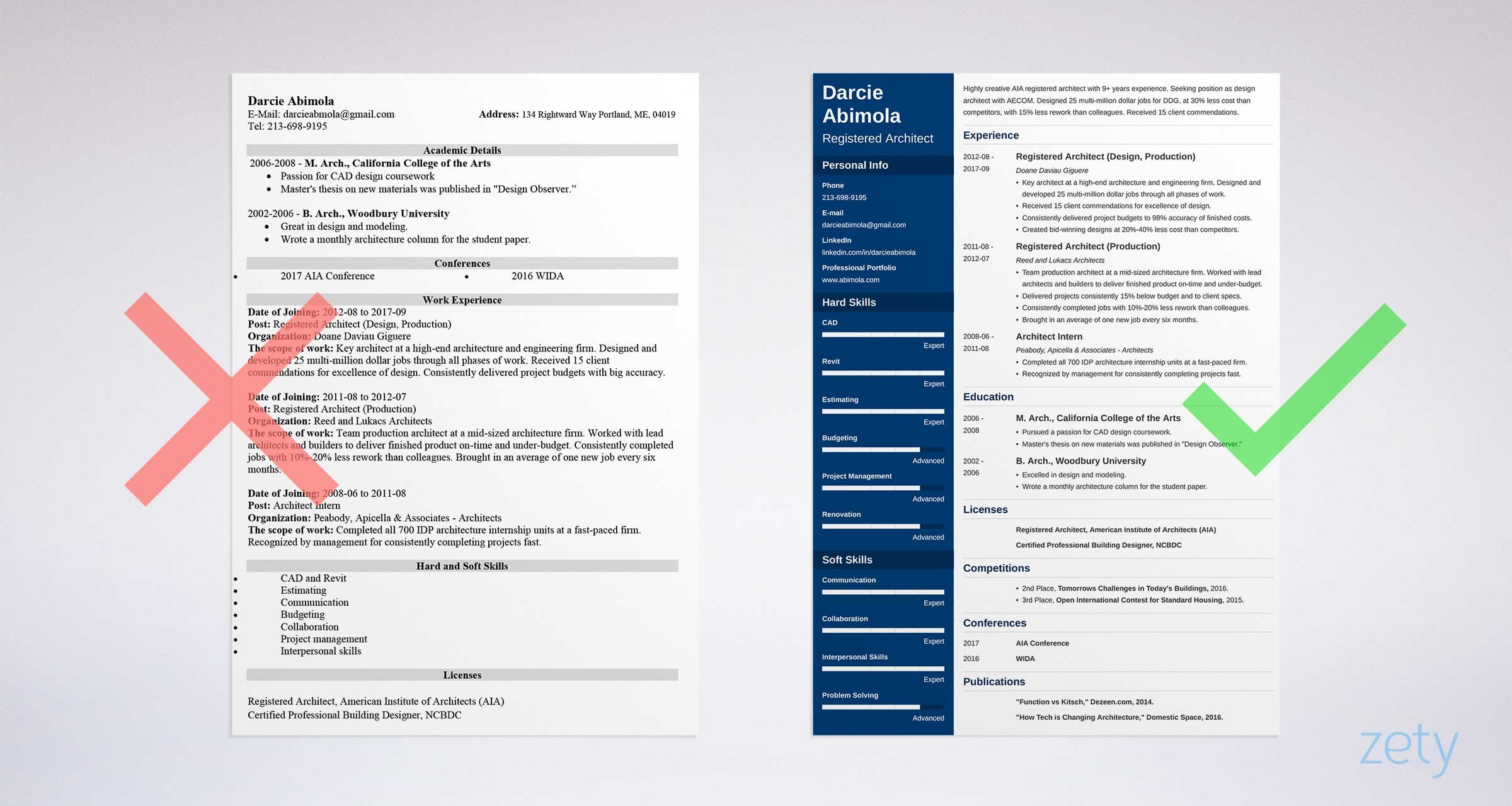 Do's
Keep it short and simple
Do not send the same resume to everyone. Make it specific in showing how your skills and interests would benefit the recruiting company.
Describe things you have worked on. Do not include things that your team members did.
Indicate your proficiency in experience and skills and do include your soft skills.
Check grammar, spelling, and punctuation
Don'ts
Don't be hard with the text or the format. Make it clear and make sure you can justify the inclusion of everything that's on your resume.
Don't be careless with the punctuation and grammar and alignment of the text. It may prove you bad as an architect too.
Don't include information that is irrelevant to the time and the company you apply to. Always update and review your resume to match the requirements of the firm.
'I'm a hardworking team player who thinks outside the box!'- This is not what they are looking for. Be specific about your skills and experience and avoid these stock phrases.

Download 20 CV-Resume Templates