The British installation artist Luke Jerram, created a giant traveller which has been visiting all around the world since 2016, the moon.
For the first time, it was exhibited in Bristol International Balloon Fiesta, then, expanded its journey.
The moon features 120dpi detailed NASA imagery of the lunar surface which, at an approximate scale of 1:500,000, represents 5km of the moon's surface within each centimetre of the internally lit spherical sculpture.
It can be located in inside or outside of the places. The installation is a fusion of lunar imagery, moonlight and surround sound composition created by BAFTA and Ivor Novello award winning composer Dan Jones. Each venue also programmes their own series lunar inspired events beneath the moon.
Also, if you check the website of the installation (click), you can see the impressive explanation below;
The moon has always inspired humanity, acting as a 'cultural mirror' to society, reflecting the ideas and beliefs of all people around the world. Over the centuries, the moon has been interpreted as a god and as a planet. It has been used as a timekeeper, calendar and been a source of light to aid night time navigation. Throughout history the moon has inspired artists, poets, scientists, writers and musicians the world over. The ethereal blue light cast by a full moon, the delicate crescent following the setting sun, or the mysterious dark side of the moon has evoked passion and exploration. Different cultures around the world have their own historical, cultural, scientific and religious relationships to the moon. And yet somehow, despite these differences, the moon connects us all.
I had a chance to see the installation in Milan. It was hanged above the swimming pool, inside of the building. For sure, was obviously amazing. I visited the moon in daytime and also night time, I wanted to see differences about the atmosphere. Also the pool was opened until 4 am for that day to make people live that swimming experience under the giant moon.
I can say honestly, it was worth it. For the day time it was unclear but was still impressive, however for the night time, you could see the special lightning and also listen to live piano performance while people were swimming under the moon. In addition, because of the resolution of the images, the moon looks like it has a textured surface that makes you want to touch it. I am still thinking that I wish I could…
As far as I am concerned, the moon gives you different emotions in different places, it won't be the same feeling if I can have a chance to see it in somewhere else.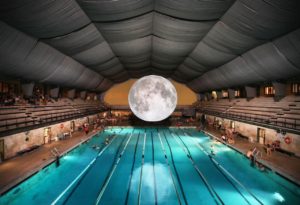 ---
You can see the other places that our giant traveller has visited until this time ;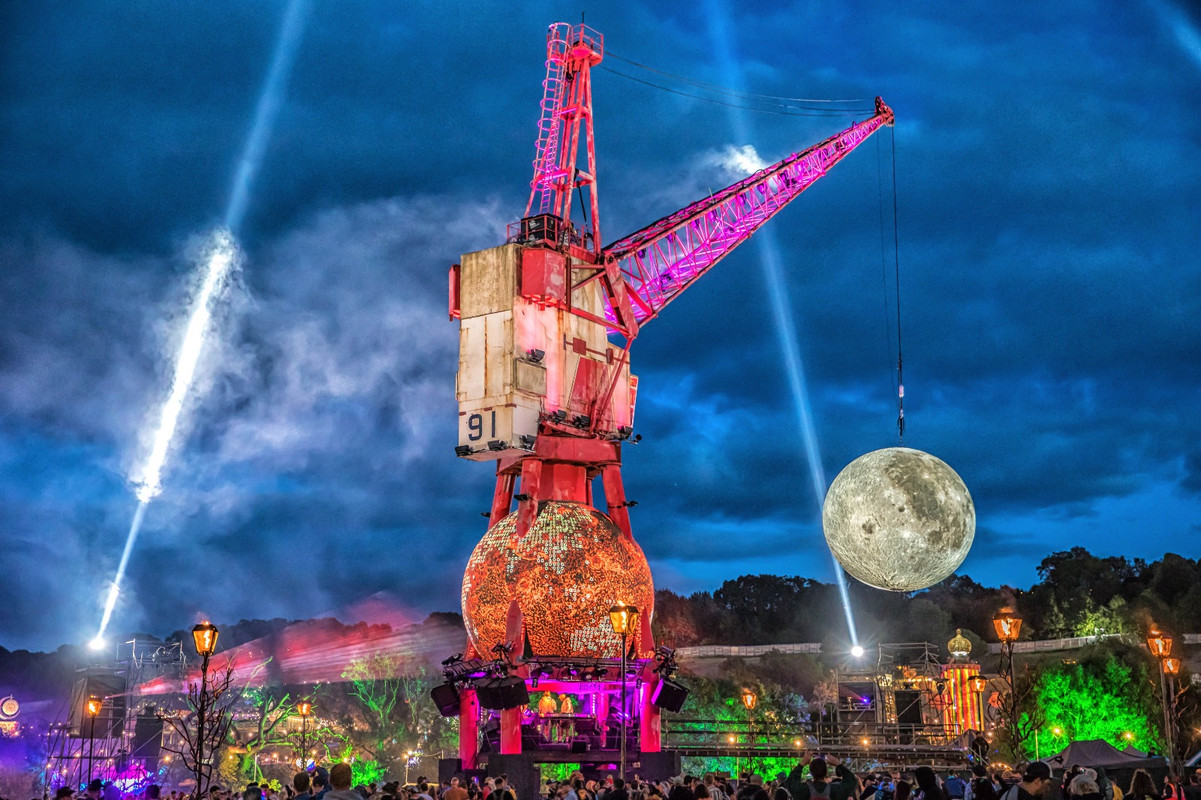 Uk – Glastonbury Festival
---
Liverpool Cathedral

---
Tintern abbey – Uk
---
Terni Festival – Italy