What are differences of architecture resume?
Just like any other profession, architects need top-notch resumes to get their dream job. The employer needs to know that job applicants are both qualified architects and at the same time have the basic requirements to smoothly complete an architectural project. Along with your portfolio, you can stand out among other candidates in job applications with your resume. As you are different from other professions in every aspect, at this point, you will show your architectural approach with your CV.
Essentials to consider!
We will talk about how to create a unique CV and the components that make up your resume to make a good impression for the offices of your dreams. Your resume will influence anyone who look at it before your portfolio works. Its design components and content are essentials to consider as an architect.
Fonts 2 fonts
Font choice is always an important point to present the works for both your portfolio and resume. It will be very good for you to use the same style fonts. In this way, you show that you have a holistic design approach. We recommend that you use this successful composition in all your CV and portfolio texts by using 2 different fonts.
Colors
The colors you choose while preparing the picture should reflect your architectural style and should be based on the colors that dominate your portfolio. In general, a resume is prepared in two colors, but if you want your design to be minimal, you can choose one color. You should prepare a CV in the colors and style you usually use in your presentations. For example, you may have a minimal and linear style, you can prepare in black and white, or your CV may include your own colorful illustrations.
Layout
In fact, the layout is completely up to your design. You can add your illustrations, diagrams that made with your own way are possible. Architectural resume is the first thing that reflects your style as a designer or architect. However, there are some things to consider to make your resume better readable and simple. The rate of leaving the page blank, font size, symmetry and alignment of the headings make your resume more readable.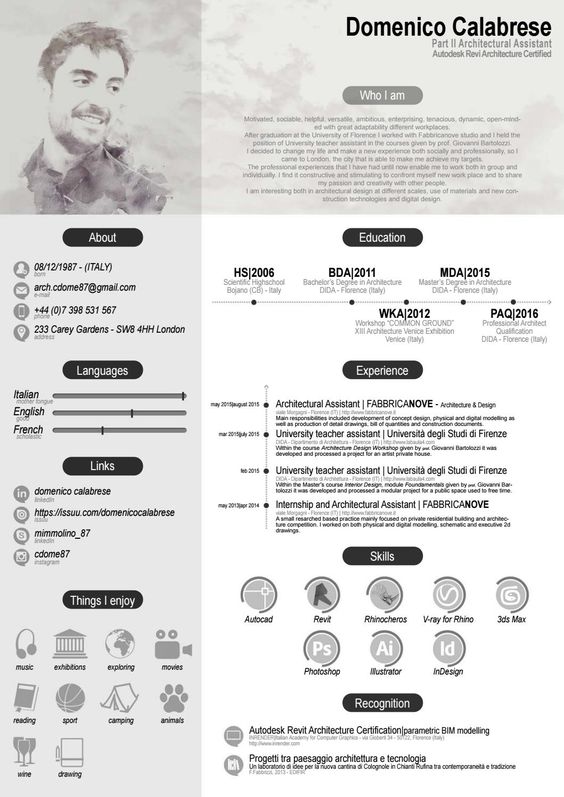 Content
The content of the resume is about what message you want to give to the office you will apply. It can include anything from the schools you've attended to your interests and abilities. You can add an improvement that you think will work. Besides, it would be better not to talk about matters that are not of interest to the office you are applying for. In general, resume content starts with short and concise personal information. A smiling photo, basic contact information, the schools you attend and your work/internship experience should be at the top. Then your skills, the software you use and how much you are good a those software; foreign languages. Also if you have any certificates related to architecture, you may add them. Finally, do not forget to include the contact information of the architects or professors who refer to you!
You can also use thousands of resume examples online.  Templates can save a lot of your time and efforts, allowing you to send more applications in a shorter period.