In architecture, although architects or architecture offices design many projects, they usually known with their most successful project. By the way, what is success in architecture? Let's call it as barn burner. Camlica Tower is the most known project of Melike Altınisik Architects.
By this project and the way of the design, nowadays, architecture community in Turkey talk about it very much. But why? What makes this project popular this much? Let's start with having more information about Melike Altinisik.
She is an award-winning architect, designer and educator, who is dedicated to develop an innovative approach towards architecture, urbanism and design. Her work aims to develop the relational thinking capacities of the architecture in its relation with design technologies.
Since 2006, she has developed her wide range international professional architectural experience by working on significant projects of varying scales from high-rise buildings, masterplans , cultural centres and museums to bespoke furniture designs. Her design work received a number of prestigious design awards including EUROPE 40 under 40, FEIDAD Design Award 07' and Swiss Art Award. She participated in various national, international and invited architectural competitions, exhibitions and publications.
Her work includes prize winning projects such as Istanbul Çamlıca TV and Radio Tower (Istanbul, Turkey – Underconstruction). Prior to forming her practice in Istanbul, she has worked in London as a Lead Architect with Zaha Hadid Architects (2006-2013). Besides her professional architectural practice, she has been an invited critic, guest lecturer, speaker and jury member at various institutions such as AA (Architectural Association, London), SAC (Staedelschule of Architecture, Frankfurt) , LAU (Lebanese American University, Beirut), ITU (Istanbul Technical University) , BU (Bilgi University, Istanbul). She received a Master of Architecture and Urbanism from the Architectural Association Design Research Laboratory,  AADRL (2006) in London and a Bachelor of Architecture from the Istanbul Technical University, ITU (2003) in Istanbul with her High Honours.
Therefore, it can be said that Melike Altınisik is one of the leaders of Parametric Architecture in Turkey.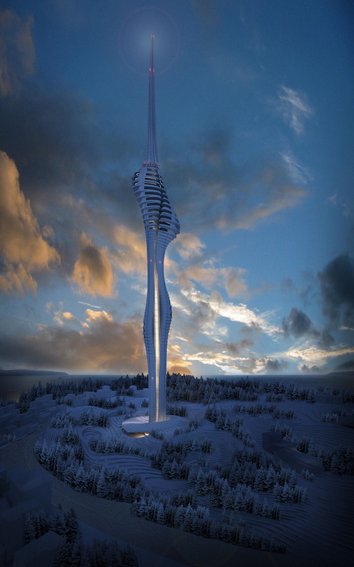 Camlica TV and Radio Tower is one of the recent projects of MAA. By taking cities beyond their programmatic and functional needs, TV and Radio Towers became new landmarks of today's modern cities such as Seattle, Riga, Berlin, Tokyo and Guangzhou. Camlica TV and Radio Tower not only reflects country's vision, but also takes the city to the next level in architecture, construction and technology. The TV and Radio Tower is designed with the idea of creating a new landmark in Istanbul. The tower is designed to replace dozens of irregular and unsightly communication towers on Çamlıca Hill.
The TV and radio tower seeks a sense of motion and rhythm within its silhouette that changes when viewed from different directions around Istanbul. Those architectural formations combine elegance and beauty with math and geometry, whose innovative concept allows inhabitable spaces to be attached to the whole of the tower's core. The project hopes to symbolize the growth of the megacity of Istanbul.
The design features restaurants, exhibition spaces, meeting areas, a panoramic elevator, and a two-story observation deck looking out over the Bosphorus Strait. There will be also a public foyer, cafe, and exhibition areas inside the podium which is transformed by the existing park walkway in Küçük Çamlıca Grove. The tower has been topped with 145-meter steel mast supported by a 203-meter concrete core which, as of early April, has reached the total height of 369 meters of construction (589 meters above sea level).
Panorama Elevators will rise on both sides of the building as elements that feed and divide the monolithic body. Visitors will experience a vertical travel along the 180 meters towards the historical peninsula on the one side, Black Sea Coasts on the other side. They will be able to watch Istanbul from the observation and restaurant floors where located 400m above sea level.
The design principal Melike Altınışık explained that idea and process behind the design. '"The story of this award winning project goes back to years ago. In 2011, I have participitated 'Istanbul Çamlıca TV and Radio Tower Project' National Competition in collaboration with Daniel Widrig and Florian Dubiel ( Visualisation.) In late 2013, the Ministry of Transporation and Communication decided to build this futuristic 369m tall tower at Istanbul Küçük Çamlıca Hill. It was a long projecting process together with teams of very important Turkish and foreign engineers to achieve international standards. We celebrated its groundbreaking in October 2015. In this unique tower which requires advanced engineering techniques both in terms of architectural design and construction methodology, all the design features, architectural planning and material selections were made considering these processes."
To sum up, architecture may be the most powerful tool for the growth of a city and to develop its silhouette. This landmark structure will not only provide the functional needs of Istanbul, but also be a symbol of the growth of Istanbul. It is expected to have 4.5 million visitors annually with the official opening slated for late 2019.