American University of Sharjah, Sharjah, U.A.E.
2019
@fatmahassan_97 + @mariamalashwal
Fatma M. Ibrahim + Mariam E. A. Ashwal
The Project is located in Abu Shagara, Sharjah, U.A.E. The plot size is about 8000 square meters, where the program includes, apartments, offices and retail.
The concept behind the project is to extend the existing alley from the nearby plot into our site. Alleyways in the neighborhood are mostly used as communal spaces. Therefore, an internal pedestrian street is designed to host all public and retail activities in the ground level of the complex. Apartments and offices are located in the upper levels, while the parking is provided underground.
All building blocks have a vertical internal courtyard that overlooks the internal street, as well as private roof terraces. The use of courtyards and roof terraces is to provide private internal views, light and ventilation. The buildings and courtyards are designed to cast shadows over the pedestrian street, as well as capture the wind making the courtyards and the street micro-climatic areas where all activities happen even during the hottest days of the summer. The roof terraces are shared among the residents of each block making it a communal space, where they use it to socialize or use it in any way they desire. For instance, the terraces provide a space for farming where they can plant their own food.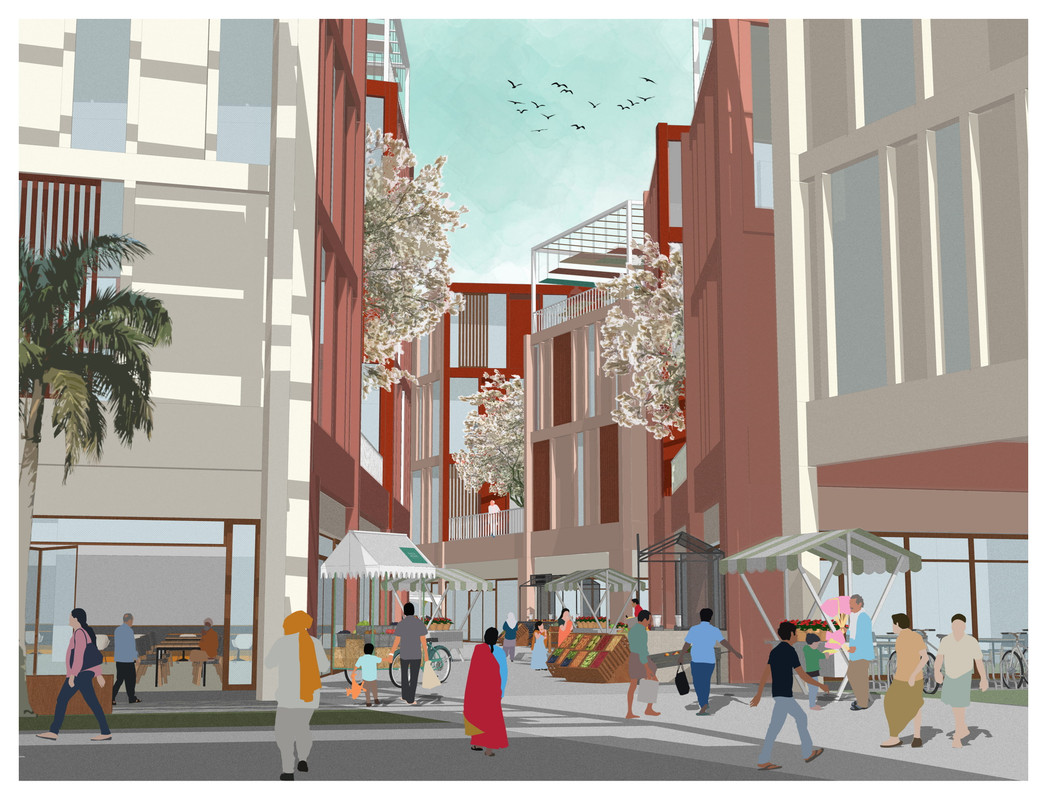 ---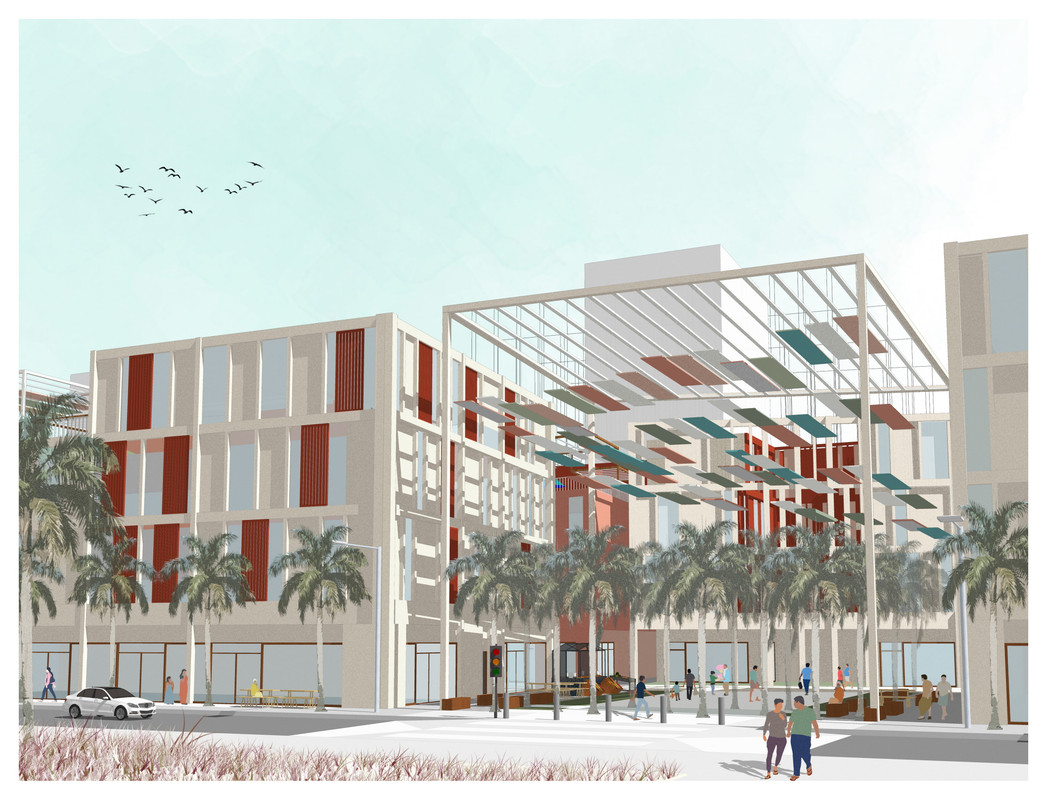 ---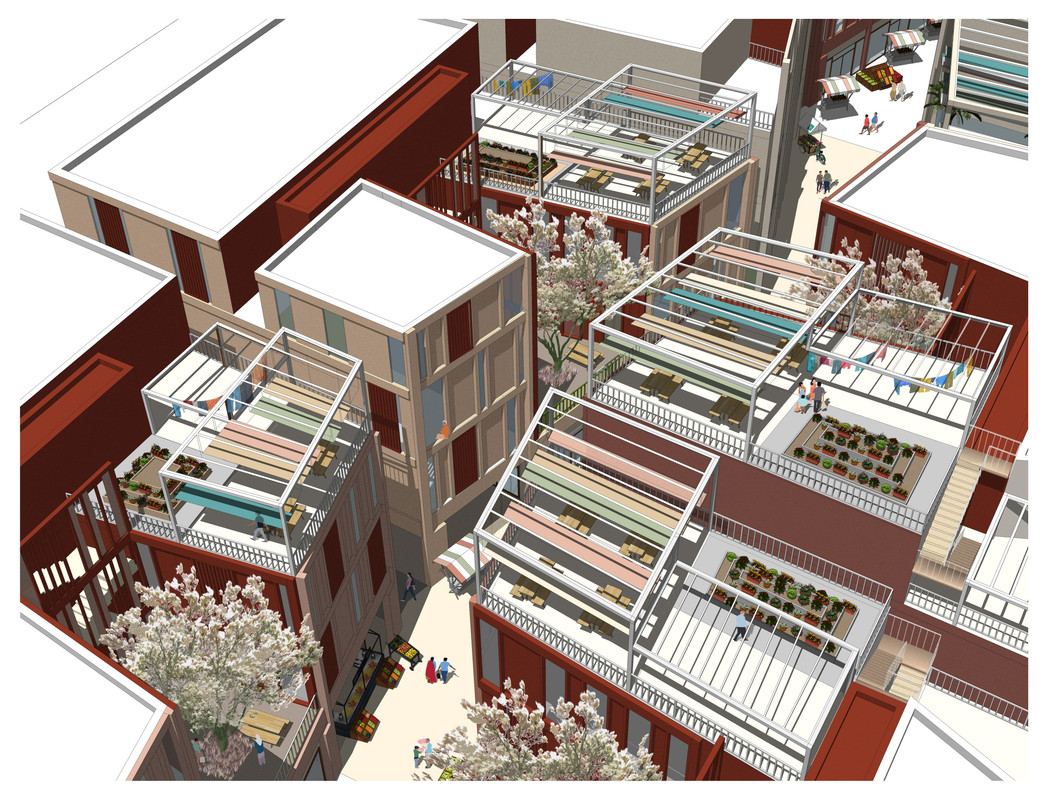 ---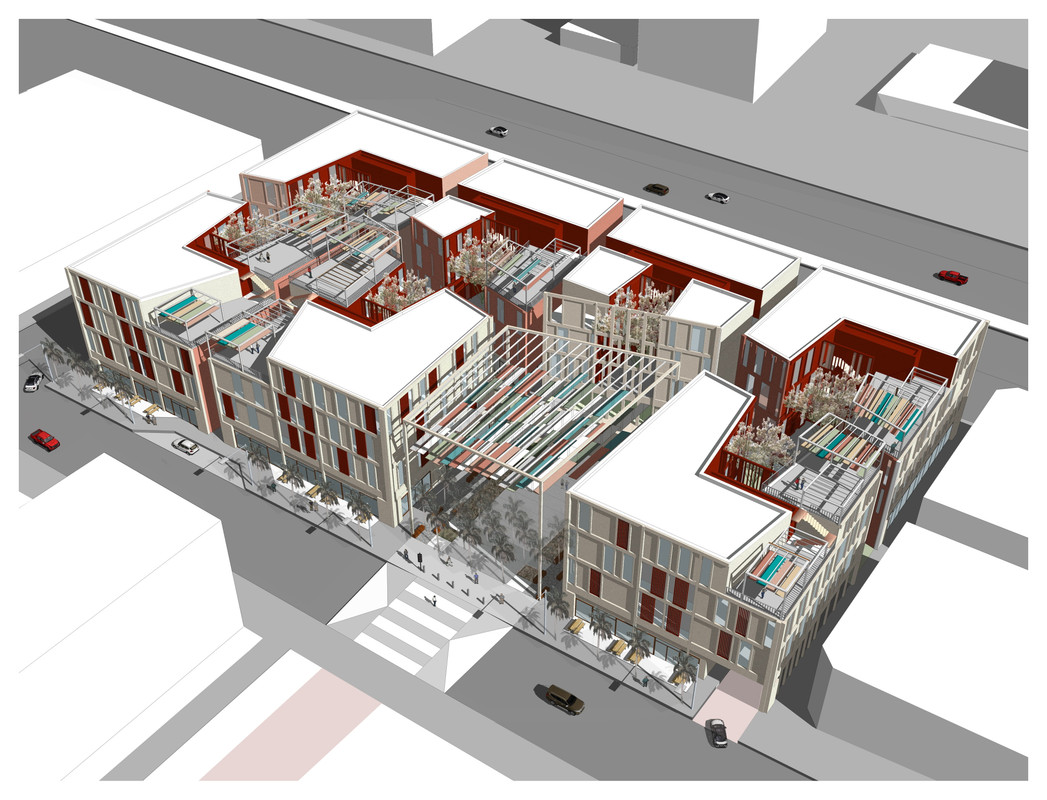 Light color facades wrap around the block edges, while a dominant color marks the facades on the internal street and the internal courtyards. The use of color is to distinguish the interior from the exterior and give the internal street an atmosphere that does not exist in the surrounding neighborhood.
Shading structures are provided for the public plaza facing the office building and for the private roof terraces. The canopies are made of sustainable fabric (recycled materials). The canopies can be prefabricated and assembled on site. Moreover, the building facades are made of stucco, a cheap and durable building material that doesn't require much maintenance.
The project's design, materials and color provide a new housing typology that doesn't exist in the neighborhood of Abu Shagara. It is a place that can be used by the public and residents of the complex.